Recently updated on August 8th, 2022
Let's say you visit a clothing brand's website. You browse through the dresses and t-shirts available, even stop to read the product description or look at the different photos. Later in the day, when you scroll through social media, you notice that the products you were looking at are being marketed to you again. This is a digital marketing strategy called retargeting. Retargeting is a strategic marketing tool that can help you drive conversions, boost sales, and keep your brand top of mind for consumers.
Marketing research shows us that web traffic has the potential to increase by 700% with retargeting efforts. Not only that, but the average CTR for display ads comes out to around 0.07%, but with retargeting, it increases to .70%. With results like that, it's no wonder retargeting is a top choice for companies who want to improve their bottom line. If you're ready to take your digital marketing strategy to the next level, you've come to the right place.
Here's what you need to know:
What Is Retargeting?
Retargeting is an advertising tactic that helps get your ads seen by individuals who are always familiar with your brand or website. These advertisements are remarketed to individuals who have visited your website within a certain period. By retargeting your ads, your company can increase your chances of conversion and improve your ROI.
Since you aren't advertising to prospects, the leads are more viable and beneficial. These are the customers that are going to help you see sales and growth. Retargeting helps with awareness and is most effective when used at the top of your marketing funnel. It encourages individuals to convert and increases the likelihood of turning prospects into paying customers.
The Benefits of Retargeting
Almost any brand can benefit from adding retargeting to their marketing plan. Retargeting provides a customized experience for the individual that's tailored to their needs and wants. The more personalized you get, the better the results.
Here are a few other benefits:
Build Brand Recognition
The more a consumer sees your brand, the more likely they'll remember you when they need you. Staying top of mind allows you to build brand recognition and boost brand awareness with your target audience. Retargeting is also a tactic to help remind potential customers what they were interested in and get previous customers to visit your site and shop more.
Cost-Effective Alternative
This advertising technique helps you increase your return on investment and see results without breaking the bank. That's because you're more likely to convert an individual who's familiar with your brand than someone who isn't. If a potential customer has also seen your website or has shopped your products, they're more likely to respond to your paid advertising. You don't need to worry about eating through your budget with ads that may or may not work with an unknown prospective audience.
Cross-Selling Opportunities
Retargeting is a marketing strategy used to help turn customers into returning customers. Returning customers have a higher perceived value than customers that buy one product or use one service.
These individuals are more likely to advocate for you or refer you to their friends or family. After an individual purchase on your website, you can retarget them with similar product offerings. This will encourage them to shop again and will turn them into loyal customers of your brand.
Effective Retargeting Marketing Campaigns
Retargeting campaigns can be as simple or complex as you choose. Since you're retargeting your marketing efforts, you don't always need to worry about the nitty-gritty details of the content and imagery. Instead, you'll want to focus on the messaging and finding a way to convince the consumer to make a purchase.
Here are a few simple yet effective ways to retarget:
Encourage Customers to Continue Shopping
Retargeting campaigns are a lot like abandoned cart campaigns. It's a friendly reminder that they should pick up exactly where they left off and maybe make a purchase this time. With these ads, you don't need to worry about anything except writing a caption related to your consumer.
Here's an example of an Urban Outfitters retargeting campaign. They keep things simple, reminding the consumer of the product, and then they finish it by reminding them why they should shop with the brand: free returns and free shipping. This creates a hassle and stress-free shopping experience everyone benefits from.
Offer Them an Incentive
Promotional offers are enticing, especially for potential prospects so close to making a purchase. By providing them with a promo code or offer you can drive them to make a purchase. In 2020 alone, over 90% of consumers utilized at least one coupon.
In 2022, the value of coupon redemption will surpass $90 billion. When you use promotions and offers in your retargeting campaigns and marketing strategy, you're bringing your customer exactly what they want.
Here's an example of a The Farmers Dog campaign retargeting campaign. The video showcases the dog food brand and touches on different emotions a pet owner may feel towards their pet.
Create a Sense of Urgency
Urgency helps set the tone for the product or service. It tells the consumer they don't have much time left and should make a purchase as soon as they can.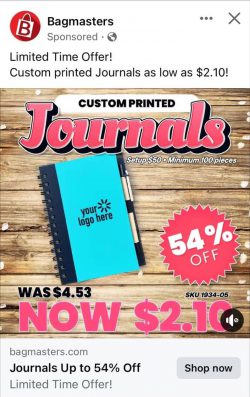 Here's an example of a retargeting campaign for a promotional product company, Bagmasters. In the copy, it says "limited time only." The graphic is flashy and shows the current price and sale for a promotional journal that the consumer was looking at earlier. Small design and content changes can help drive consumers to continue shopping to get the best deal.
Taking Your Retargeting Ads to the Next Level
Retargeting ads is an integral part of any marketing strategy. They help you reach your goals and get the most out of your marketing budget. If you're looking for a way to maximize your marketing efforts, it's time to meet your customers where they are and start strategizing how retargeting can help you get the most out of your marketing. If you're looking for a team of professionals to bring your digital marketing to the next level, contact Next Horizon today.
---
Next Horizon provides our dedicated team of experts to align your business goals with tangible digital marketing strategies that give you deeper insights into your ideal customer, with innovative, cost-effective services.
Digital Marketing
,
social media
,
strategy
Categorised in: Digital Marketing, Social Media